The AGG-MATE Heavy Duty Box Pruner is the latest in Australian made pruning technology.
Click here to read about how the AGG-MATE Box Pruner's innovative self-levelling design helped to win the New Industries Development Program 'In-market Experience Scholarsip'.


View demonstration video footage (3.8MB mpeg)
The AGG-MATE Heavy Duty Box Pruner's features include:
A unique self leveling cutter bar design to enable ease of operation
Double acting cutter blades which enable increased speed and efficiency in operation
Special notched blade design which prevents canes from escaping the cutting action
Three cutter-bar configuration enabling a saving in labour, time and fuel costs
A timed and balanced double acting cutting action means vibration stress to the machine is minimal and less maintenance is required
Simplistic design and construction enabling efficient and easy maintenance and servicing
Electronic control panel featuring high quality, 4-way joy stick ram controls, emergency stop button and cutter only isolation switch - meeting standard closed cabin legal requirements
Slim blade design allows for excellent operator vision of cutting zone
Distance between vertical blades is marked on sliding arm enabling easy and accurate setting of cutter blade gap.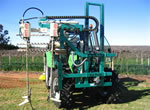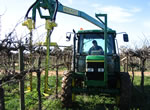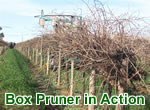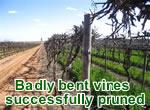 Click image to view larger size