The AGG-MATE ® Three-Point Linkage Box Pruner receives New Industries Development Support.

Michael Stanbrook, Manager of Mildura Irrigation Repairs has received word that he has been awarded a New Industries Development Program 'In-Market Experience Scholarship', a grant only seven businesses in Australia have been lucky enough to receive this year. The grant covers costs of training Mick in Marketing, as well as costs involved in the marketing process for the Box Pruner. The Scholarship will run over a 12 month period, and will enable Mick to present his Box Pruner at several Field Days in the key grape growing regions of Australia, as well as seek suitable Dealerships in these areas.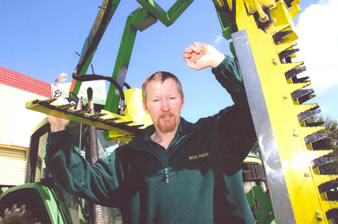 The AGG-MATE ® Three-Point Linkage Box Pruners unique features to other Box Pruners on the market is it's self-levelling, which means that even if working either on a hill, slanting to the left or right the cutter bars will always be at the correct angle to the vines. This makes the operator's job much easier. The unique square notch build into the profile of the blade stops any canes from escaping the cutting action. The timed and balanced double acting cutter blades enable increased speed and efficiency, as well as reducing vibration stress to the machine, resulting in less maintenance being required. This is also attributed to the simplistic design and construction. Its electronic panel meets standard closed cabin legal requirements, and the slim blade design allows for excellent operator vision of the cutting zone. The unique scissor type action sets the distance between the vertical cutter from 6 inches to 4 feet, enabling easy and accurate setting of the cutter blade with minimal change of cutter height.
Unlike conventional machines which have been known to stress tractor housing and are very dangerous, the boom mounted on the Three-Point linkage at the rear of the tractor keeps the centre of gravity through the centre line of the tractor
The potential market opportunity in Australia alone for the AGG-MATE ® Three-Point Linkage Box Pruner is vast. Australia is currently one of the largest grape growing nations in the world.
Labour shortage on vineyards is a major problem facing the industry. All vineyards can benefit from using the AGG-MATE ® Self Levelling Box Pruner, as labourers willing to prune vines are becoming scarcer. This new product reduces the need for labour, taking the worry out of finding adequate staff, as well as reducing expenses related with employing staff. This in turn makes the horticulturalists produce cheaper and more competitive in the national and international markets. The AGG-MATE ® Three-Point Linkage Box Pruner is able to be used in wet conditions, in which labourers would not normally work, saving valuable time.
Once the AGG-MATE ® Three-Point Linkage Box Pruner has proven itself in the national market, potential market opportunity is even greater, by introducing it to the international market.
Click here to view the Box Pruner Product Page